You may have heard some of the crazy crap that has been said by some people in MARVEL lately. Nobody knows what happened. It's hard to believe that someone would say those things in public, knowing that it will have a huge impact on such a big company like MARVEL.
I absolutely love MARVEL. I owe so much to them. MARVEL are the ones that got me into comics. MARVEL are the ones that got me into comic book movies. Heck, marvel are even partially the ones that got me into blogging! But no matter how much you love something or how much of a fan you are, you will hear some crap once in a while that will just make you look at that thing from a completely different angle.
Damn. MARVEL sure said some things recently that are costing them a lot right now. I am, of course, talking about Alex Alonso's words about comics book artists and David Gabriel's words on diversity in comics. I will start off by discussing the latter. Now, in case you don't know, MARVEL's Vice President of Sales, has recently been quoted as blaming diversity for the fact that MARVEL's comic book sales haven't been doing very well lately. In fact, he went on to blame the readers for not buying comics about diverse characters!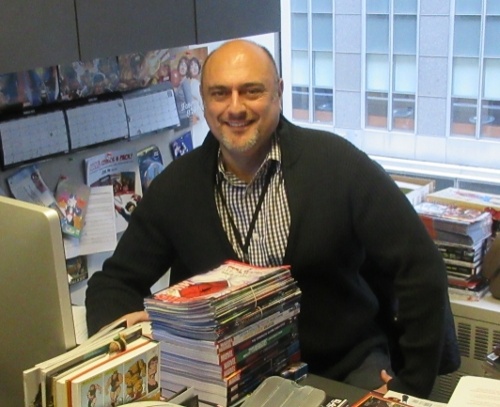 Now, what do I think about all of this? Well, obviously, that's not something you should say when the media has a microphone stuck in your face. No matter how true things like this may be, you never say them aloud. I mean, sure, diversity probably is part of the problem why MARVEL isn't doing as well as it used to, but it's super counter-productive. The reason MARVEL started introducing all of these diverse characters is to show people how politically correct they are. And now that they managed to earn the trust of those people that believed comics should have more diverse characters, it isn's smart of them to just throw that trust in the bin now.
But, the thing that pisses me off the most in what he said, is that it's our fault for not buying the one billion number ones each month where they change all of the classic characters into black people and women. Not everything needs to be a damn social statement! And they don't need to replace 98% of the original MARVEL characters with more diverse people! It was great when they did it to a couple of characters here and there a few years ago, but I believe that it has gotten way out of control. As of right now, this is every character that I can think of that MARVEL changed for diversity's sake:
Wolverine – Laura Kinney
Nick Fury – Nick Fury Jnr.
Spiderman – Myles Morales
Captain America – Sam Wilson
Ms. Marvel – Kamala Khan
Hawkeye – Kate Bishop
Thor – Jane Foster
Deadpool – Gwenpool
Hulk – Amadeus Cho
Vision – Some female version of Vision
Iron Man – Riri Williams
Star Lord – Kitty Pryde
Yes, I agree! It's a lot for such a short amount of time. And I'm sure that I missed a few! Basically, what I`m trying to get at here is that MARVEL cannot just be trying to please everybody by first introducing a ton of new characters and then blaming people for not buying them. I mean, diversity aside, reading comics is a pretty expensive hobby. MARVEL start a new series every few weeks, so you can't possibly expect all of your readers to just casually add another five euro to their monthly outcome.
So, yeah! Those are my thoughts on that subject. Now, let's move on to what Alex Alonso said. Bear in mind that this guy is bloody editor in chief! And, according to him, artists don't sell comics. Basically, he said that people would only ever buy a comic because of a writer and not because of an artist. And, in his own words, artists just don't move the needle.
I mean, it's insane that he'd even consider saying something like this in public. The saddest part is that this may very well affect everybody at MARVEL Comics as well as us, the readers. I can see many artists being very reluctant to work for MARVEL now. But, do not fear! That smartass insured himself by saying that McNiven and Coipel still do move the needle after all! Son of a %$#@!
Now, I'd hate to be that guy who is just a one-sided, bias jerk. So, as much as I cease to believe that Alonso would think this, I can sort of see where he could potentially be coming from. MARVEL have had some issues because of artists in the near past. You don't need to look any further than the recent controversy surrounding X-men Gold. Basically, if you aren't aware, an artist tried to insert a very hateful message onto Collosus's t-shirt. And even though this happened after what Alonso said (possibly as a subliminal middle finger towards the guy) stuff like this has happened before. However, that's just me playing devil's advocate. I personally think that it's outrageous he would say that and I'm just hoping that artists will be able to shrug it off as him not knowing what he was doing.
Anyway, I hope that all of you had a great Easter! Also, please let me know what you think of this post in the comments! Share this post on your social media if you feel like you want other people to know about it. Talking about social media, don't forget to like me on Facebook, follow me on Instagram and subscribe to me on YouTube. But that's it from me for now. See thee soon!